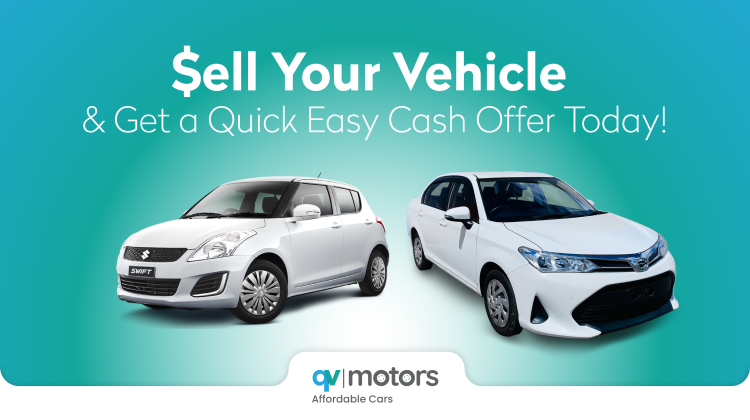 Sell My Car to QV Motors
Do You Want To Sell Your Vehicle? Get a Quick Easy Cash Offer Today!
Here's why Vehicle owners like YOU are selling their vehicles to QV Motors.
To qualify your vehicle for sale must be a Toyota Axio or a Suzuki Swift (2014 – 2016). 
HOW IT WORKS
Enter your vehicle's details into the form below and a member of our team will be in touch.
HAVE YOUR VEHICLE INSPECTED 
If your vehicle matches our criteria. A member of our team will inspect your vehicle to ascertain whether your vehicle matches QV's high standards. 
GET YOUR QV MOTORS CASH OFFER
If your vehicle matches our standards and you are indeed ready to sell. You will get an instant cash offer.
Selling your Toyota Axio and Suzuki Swift (2014 – 2016) has never been easier. 
Benefits of Getting a QV Motors Cash Offer 
Our Process is Quick and Easy!
We only need a few details from you provided online and the ability for a member of our team to inspect your vehicle in person. 
Transparency at its Finest
Look! Numerous factors affect the value of your vehicle. But once the condition of your vehicle is in excellent shape, then you are the one for us. Our lot attendants will explain the entire process to you and what may or may not affect your offer.
Get Paid Cash, you heard that right, GET PAID CASH. 
A QV Motors cash offer means you get a cheque directly from QV Motors. NO additional time or hassle included. We give you an offer on the spot! Private party vehicle sales take time and could cost you MONEY! Sell us your vehicle today and get PAID TODAY. 
Are you Selling Your Vehicle?
If you think it is time to part ways with your vehicle. Here are a few things you'll want to know as you are getting ready to sell. 
Time
Firstly, you'll want to think about how much time you'd have to dedicate to selling your vehicle. QV Motors lets you get a Cash Offer for your vehicle in minutes. You'd need to answer a few questions and get your vehicle inspected to get an offer in minutes.
Determining Your Vehicle Value
Your vehicle value is unique, so we need to go through a process that tells us exactly. Things that can affect the value of your vehicle may include and are not limited to.
The condition of your vehicle's exterior, dents scrapes etc.

Interior condition 

Tire and Brake wear

Damage that may have been caused in an accident

Rust/ General Deterioration of Components
Selling your Vehicle to QV Motors
There are a few things to consider when determining whether or not you want to sell your vehicle with us.
Ownership – Do you own this vehicle outright? If not, How much do you owe? Is this vehicle leased? If you owe, you'll have to pay off your outstanding balance before selling it privately. 
Time – Selling privately will definitely take much more time. You'll have to sharpen up your ride, take some pictures, personally find places to advertise, and then go through the painstaking process of meeting your prospective buyers. Selling with a dealership like QV Motors takes away all the worry of doing those things.
Ready To Go? Simply Fill out the Form Below!
Sell my car to QV Motors!